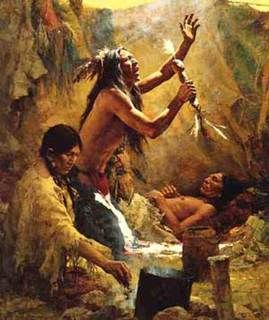 "Medicine man" is a western term used to describe Native American religious community figures. The meaning of the term is similar to that of "shaman". The word "medicine man" has been widelycriticized by Native Americans, and various scholars The term "shaman" is believed to have originated among the Siberian Tungus and the translation of shaman is "he (or she) who work with spirit helpers to returning the individual to a state of harmonious balance both within himself and in relationship to the outer world.
This holistic approach seeks to create a change not only in pathology, but also in the patient's understanding, a change towards healthier self-concept and greater appreciation of the world around him. Such growth supports the patient in necessary behavior modifications. The healer's intention is that the person be not simply cured of a disease, but transformed through the experience of disease.
In Lakota traditions, Wakan Tanka is a term for "The Great Spirit" which resides in every thing. Every creature and object has a wakan, such as wakan tanka kin, the wakan of the sun.
http://www.freewebs.com/white_buffalo/awayoflife.htm