Today , here in the USA, its a holiday---
"Thanksgiving"
Being that I am part native indian (cherokee),.....I cannot say,
with fact---that history states the truth..
.
But, aside from the injustice inflicted upon the native indians,
all thur history...(even yet today)...
"Thanksgiving".....needs to be a great world-wide holiday,
of "all" people comming together, in peace...
For oneday, to set aside, all differents..and "sit" in Thanksgiving of life
and friendship..
But than,"I am a dreamer"...
"HAPPY THANKSGIVING"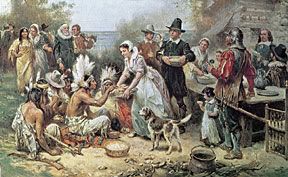 **THIS IS WHAT "HISTORY" SAYS THAT HAPPEN...but is history correct..